In A Hurry? Click Here To Download This Post As A PDF To Read Later
As the internet has over the past decade, SEO (search engine optimization) too has developed somewhat and left behind the days where you could choose one keyword and mention it as many times as possible within your content to reach the first page of results. Now, search engines worry more about the experience of the customer and they realize that quality is much more important than quantity.
Despite SEO undergoing huge transformations in recent years, keywords are still an integral part of the process and this will never change because they provide the foundations upon which SEO was built. With this in mind, keyword research is more important than ever before because it's all about finding a balance between competitive keywords but with enough room to allow for some progress. Also, check out the Keyword Research Step By Step Guide
With a simple search online, you'll find numerous tools that claim to help you in your keyword research journey but, without a doubt, one of the most popular of all is Jaaxy. Today, we're going to investigate Jaaxy in more detail so you get an idea as to whether it will work for you moving forward. Thank you for joining us on this Jaaxy Keyword Research Tool review and we hope to cover all the information you could ever want and need!
Keyword Research Tools
If you've used keyword research tools previously, you're likely to be a little cautious at this point because many of them seem to get lost in the numbers and metrics. Unfortunately, there's no real value in most numbers which is why users get frustrated within minutes and they click away without having gained anything (except perhaps more spam mail from the creators of the tool).
In the past, we've seen people stung by keyword research tools and there are certain things you need to look out for including installations. In our opinion, keyword research should NOT require any installations because it simply isn't necessary. After this, you should be cautious with PPC 'guesstimates', tools that don't use all search engines to calculate results, tools that determine competition by using Alexa, and finally those that require you to complete numerous searches just to do one task.
If you've been searching for a reliable keyword research tool, you'll likely recognize some of these tactics and they generally show that you've found a bottom-of-the-range search tool. Sure, some of them might provide you with useful data after hours of painstaking research and unnecessary processes but the majority will provide useless data and could even charge for the privilege.
Jaaxy

To start this Jaaxy Keyword Research Tool review, we should state that Jaaxy claims to have 99.7% search engine coverage and this includes Bing, Google, and Yahoo. With these three pulling in the data, you can be confident that you have some of the best information in your specific market. Over time, this data becomes reliable and trustworthy and it will allow your business, blog, or personal site to grow.
Earlier, we mentioned 'useless' metrics and we believe there are probably three you're interested in and the rest are normally thrown in to look more impressive and confuse you. As a business ourselves, we care about:
Whether the keyword makes sense,
The competition of the word or phrase, and
The traffic the word or phrase receives.
While the first one of these depends on common sense and the tool providing words and phrases that can be used within content, the latter two are controlled by Jaaxy and they do a superb job of keeping the information as accurate as possible. Within a very quick time, you'll see those keywords that have little competition but enough interest to make it your own. As you start to draw an audience, you can keep targeting these keywords and enter a path of continual growth.
However, there's more to this site than just keywords because they've also delved into other areas which could prove useful for all affiliate marketers. While the keyword section of the website can be used by anyone, you can clearly see the rest of the service has been designed for affiliate marketers as you're about to see.
Additional Features
Niche Research – For those who are still looking for a niche to enter in 2017, it can be a tough decision to make. With hundreds of thousands of niches to target, which attracts enough attention to make money, which should we avoid, and which are currently being under-utilized? With the niche research tool from Jaaxy, you can find the hottest trends in the world right now whether it's dieting, yoga, exercise, cameras, mobile devices, travel, knitting, playing an instrument, or anything else.
With a new brainstorm feature, you can really get to grips with the most popular niches so you have an ability to choose a niche that's becoming more popular but with still enough room for you to step in and make a difference. Once you choose your niche, you can get started and use the keyword research tool to attract the readers towards your site.
Affiliate Program Tool – Next up, you have a niche and you have your keywords contributing to your site and this has led to significant progress in terms of visitors…but how do you utilize this? With Jaaxy, you can search through over 15,000 affiliate marketing programs to find the one that really suits your niche as well as your visitors. With the brilliant search function, it doesn't take long before you uncover the best options and start earning money for
advertising high-quality products to your niche.
SEO Competition – While concentrating on your own thing can be a great way to go, there comes a time where you need to assess the competition so you know exactly where to get the upper hand and this is where Jaaxy comes in. After typing in a keyword, you see the search results as they would appear on Bing, Yahoo, and Google (you can switch between the three).
For each website, you can click a little 'View Detail' tab and this brings up invaluable information including backlinks, Alexa ranks, word count, links on site, meta keywords, meta description, etc.
Since you can assess the results for all three platforms, you'll soon come to know what each looks for and you can personalize your offering to get ahead of the competition. Although it can be time-consuming, Jaaxy makes it simple and it could just be the boost you need to get ahead of the competition.
Site Rank – As you can see so far in this Jaaxy Keyword Research Tool review, it would make a great addition to any business and this is before we even discuss Site Rank. Have you ever wondered where you're ranked on any given keyword across the three search engines? For many, it's hard to see unless they're willing to scan through the pages and this can take a significant amount of time.
Within 1.8 seconds,  with Jaaxy you can find your position for any keyword so you know exactly where you are at all times. Why is this important? Because, if you pay attention to this number over a period of time, you'll see what techniques actually impact on your ranking. Rather than hoping your latest article or addition worked, you can see the movement in the ranking and this allows for progress and a better understanding of the ranking process.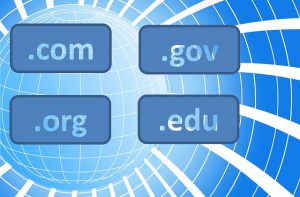 Domains – Finally, it's a surprise that there are still high-quality domain names available with the number of new websites starting every single day.
However, there are still millions available and you can find the very best ones for your keyword with a simple search. After entering your keyword of choice, you'll be shown up to 90 of the best domains including .org, .com, and .net options.
Available Jaaxy Plans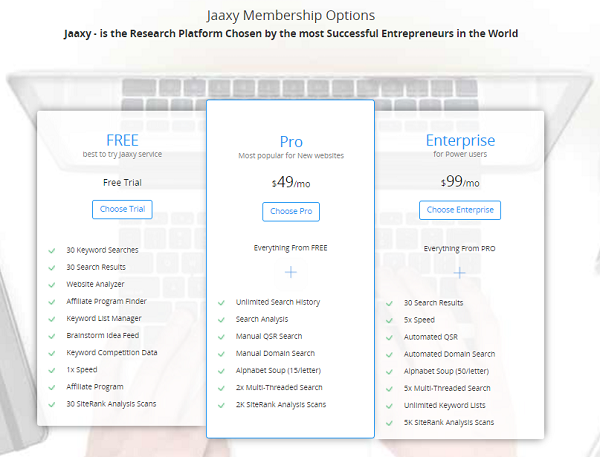 Choose The Jaaxy Plan That Suits YOU Here!
With so many different features available, Jaaxy is an affiliate marketer's dream and they offer three main packages from which to choose when getting started. Depending on your budget, you should actually find something that suits your needs and it begins with the 'Starter' option which is absolutely free.
With this version, you'll receive a certain number of searches along with some basic tools to get you started. Although you won't receive unlimited searches and the full works, it's great for those who won't use the platform too often or for others who want to test the platform before investing money into it.
Next up, we have the 'Pro' option and this costs $49 per month but you get everything carried over from the Starter package with the addition of Manual Domain Search, Manual QSR Search, Alphabet Soup, Unlimited Search History, 2K Site Rank Analysis Scans, and more. If you're a new website and looking for help to take it to the next level, this is the ideal package.
If you plan on using the website extensively (most days) and want Unlimited Keyword Lists, Automated QSR, Automated Domain Search, 5K Site Rank Analysis Scans, and much more, 'Enterprise' is the option for you and this is available at $99 per month. At first, this can seem a little high considering you'll be paying just under $1,200 per year but you should look at this as an investment opportunity. For the number of tools you receive, the platform is perfect for all affiliate marketers who want to optimize their existing websites while remaining open to the option of starting new websites and expanding the business in the future.
Since the platform is web-based, you can access it from wherever you are in the world (as long as you have a device and an internet connection). On the commute to work (if you're just starting out in the affiliate marketing world), while cooking dinner, or waiting in the doctor's office, Jaaxy can be opened on your mobile or tablet and you can fill these times with valuable keyword research. If you are just starting out check out our article Affiliate Marketing For Beginners.
Jaaxy Back Office Walkthrough By Jay (2017)
Summary 
As an affiliate marketer, we assume the ultimate goal is to have dozens of websites that combine to create a solid income for you and your family. Sadly, many middle-road affiliate marketers struggle to take the next step because they can't find an efficient way of automating important processes and keyword research is included in this list. Within this Jaaxy Keyword Research Tool review, we hope to have shown you a solution that works time and time again.
I hope you enjoyed this review and if you have any questions about Jaaxy Keyword Research Tool or want to leave your own personal review, leave a comment below.
Ready to start your own personal research Jaaxy?  Use the keyword research box below.
Check out some of our most popular product/service reviews…