In A Hurry? Click Here To Download This Post As A PDF To Read Later
If you're currently looking for ways to make money online, you're going to need a little help along the way. However, you always need to be careful these days since there are numerous scammers waiting to catch you out. When a site promises the world and has poor customer reviews, you can almost be certain that the site cannot deliver on its promises.
This being said, it can be tough to tell considering websites are now easier to build and look professional at all times. With this in mind, today we're going to look under the 'bonnet' (so to speak) and assess one program that has been attracting attention as of late; Affilorama.
What Is Affilorama?
Designed for people who want to start their own affiliate marketing business, Affilorama allows you to promote the products of others while earning a small commission for each sale made. Seen as one of the most extensive affiliate marketing communities on the internet, the idea is to make money online through affiliate marketing while being able to leave the day job and work from wherever you want in the world.
Whether you're a beginner within this niche or you have a foundation of knowledge and want to extend this slightly, Affilorama allows you to make progress with access to training, a forum to have conversations with other members, and a regularly updated blog. However, it also runs deeper than this because you'll have access to free online tools to get your website started and this helps you to track your rankings, investigate backlinks, and research keywords for your content.
How Does It Work?
For those who have tried Affilorama and quit because of the confusing nature of the site, we understand but we should start by answering the 'is Affilorama a scam?' question. In short, NO!. With thousands of users now benefiting from their services, Affilorama is very much a legitimate service and, nowadays, the service is actually free because they've removed the many different packages that once existed.
Coming back to the point regarding confusion, Affilorama was once seen as one of the most confusing programs on the internet because it had different levels of service, the layout was a little messy, and nobody really knew where to start. Now, it has undergone a transformation and the majority of services can be accessed with a free membership. Essentially, the service has been split into two;
Services – On the free side of the website, you have numerous lessons that could teach even absolute beginners to get started within the world of affiliate marketing. From learning the basics to remaining productive within your own business, Affilorama has got you covered. In addition to the lessons, Affilorama also offers a blog and this contains yet more useful resources.
With a detailed post, you can feel confident in receiving the most recent industry news and tips. If we look at the last few posts (at the time of writing this), you can learn about Reiki Affiliate Programs, Craft Supplies Affiliate Programs, setting up a Facebook Fan Page, and even avoiding the 'Spam' folder.
Finally, we should also mention the forum which is available for all members and has been split into different sections depending on whether you need news, general conversation, services, feedback, training, social media help, SEO advice, etc. With a genuinely helpful community of people, you can take part in conversations and have your questions answered in no time.
Products – On the other side of the website, you have products that aren't completely necessary but may find a use within your business. With AffiloTools, for example, this provides all sorts of statistics for online marketers and this might just be the help you need to push your business forward. As well as rankings and keywords, you can also see competitors and other statistics. Currently, this connection to Google Analytics and even social media is available for free. At the click of a button, you can add it to your website.
AffiloBlueprint System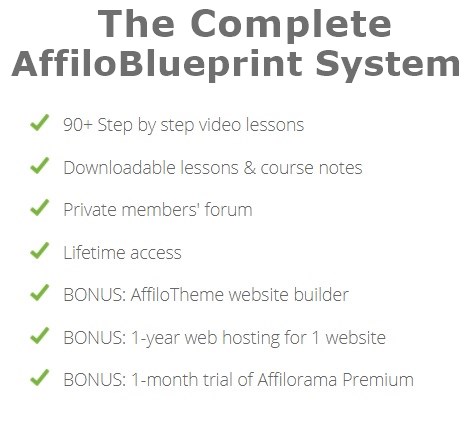 Also in the products section, you have AffiloBlueprint which is available for a one-time fee of $197. Within this, you'll get over 90 step-by-step video guides and this can be useful if you find it hard to follow the text-based guides. Alongside the videos, you'll also open up a private members forum, course notes, downloadable lessons, one-year web hosting for your first site, AffiloTheme website builder, and more. If you aren't happy with the service for whatever reason, you can also request your money back thanks to a 60-day guarantee.
AffiloJetpack System
In the last product, this can be seen as the 'Premium' service and one that certainly divides opinion. At first, the price of $997 can be a little worrisome and you might decide against this package immediately. However, AffiloJetpack can actually be incredibly helpful for the sheer amount of benefits you'll receive after paying the fee;
Three x 10,000-Word Reports
One-Year Email Newsletter Membership (90 x 500 Words)
AffiloTheme
Website Installation
Three x eBook Graphics
Web Hosting (12 Months)
Topic Assistance
Website Content
According to Affilorama, the total cost of doing all this yourself will depend on how long the many tasks take but it could end up well above $3,200. According to a recent report, one year of newsletters can cost $1,800 alone which suddenly makes this package from Affilorama look more attractive.
Furthermore, depending on whether you write the content yourself or hire an external writer, Affilorama say that you can be done within hours or at least within a week. If you choose to do all of this alone, it can take a number of weeks and this might be a valuable time you just don't have.
Ultimately, the package allows you to save time, money, and stress trying to do everything manually when you can have assistance at every stage. What's more, they recently changed the offering so you have access to five websites as opposed to one; this makes each website cost under $200 and it becomes even more affordable once again.
Benefits
Now you know what the program entails, you can see that 'is Affilorama a scam?' is actually an easy question to answer. Considering they encourage all users to test the free version first, they are a legitimate company offering a fantastic service. To finish, we want to take a look at some of the benefits and drawbacks of the service so you can make a full assessment and decide whether the service is right for you!
Free Membership – How could we start anywhere else? In truth, those who already have a website and know the basics can benefit from the free membership without having to pay out for the more expensive products. If you're happy enough to navigate the lessons and learn as you go, there's nothing wrong with the free membership at all. In terms of lessons, you can learn about:

– Market Research,
– Marketing Ideas,
– Content Creation,
– Site Building,
– Affiliate Outsourcing,
– SEO, and
– PPC.
Lesson Summaries – Rather than clicking on a lesson before realizing you don't need help on a specific topic, the lesson summaries allow you to quickly read exactly what's inside. Regardless of the topic, you know exactly what the lesson entails so you can progress in the right order rather than jumping too far ahead and have to take a step back.
No 'Pushy' Tactics – With the free membership, you have all the time in the world to make up your mind and decide whether or not you need the more expansive AffiloJetpack. Rather than being pushed into a decision at every single turn, you can get to know the program and whether you will use it enough to warrant all the added extras.
AffiloJetpack – Finally, the premium offering is a superb one that offers several benefits and this is especially true if you're a beginner. With web hosting and plenty of video guides, you'll receive all the help you need from the first day. Even if you have a website already, the newsletters and reports, which normally cost a combined $3,000, make the deal worthwhile and it means you can get a running start rather than entering cold and not really knowing what to do.
Drawbacks
Ultimately, we had a tough time thinking of drawbacks because we know the 'is Affilorama a scam?' question leads to a 'NO' answer. Once we have this, all the resources become real and it feels great to know that we can benefit from all the available features. This being said, we did manage to find three small talking points and things you should consider before making your final decision.
Member Activity – Although the forum is actually very helpful and your questions will get answered, there are some other programs that have more active forums. If this support and communication with others in your position is important for you, you might want to research and see the review of our Wealthy Affiliate Program.
Outdated Training – For the most part, Affilorama is a program kept up-to-date and the blog really helps with this. However, we did find some sections of the training that are outdated so this is important to keep in mind. For example, one section mentioned using Dreamweaver as a way of creating content. As we know, WordPress now boasts thousands of themes in this niche so you should be aware of the alternatives that exist.
Promotional Emails – Finally, we actually received some emails from the creator of the site, Mark Ling, regarding other affiliate marketing programs and additional extras trying to get us to spend more money so this is something else to remember. In truth, we advise ignoring them completely or at least proceeding with care because the emails you receive aren't likely to provide a service better than Affilorama.
Summary
All things considered, Affilorama is a superb program boasting several amazing features if you're looking to get started within the affiliate marketing niche. As long as you consider the minor drawbacks, they may not be important to you and you can go ahead and benefit from the long list of features and help you'll receive from the site. With numerous lessons, video guides, and web hosting help (with the paid option), you won't have to worry about forgetting certain processes or making huge mistakes on your website as everything is covered.
Hopefully, we've covered the 'is Affilorama a scam?' question now and you can be more confident in choosing the right affiliate marketing program for you. With a free membership as a starting point, why not get started today and test the website for yourself?
I hope you enjoyed this review and if you have any questions about Affilorama or want to leave your own personal review, leave a comment below.


Check out some of our most popular product/service reviews…