In A Hurry? Click Here To Download This Post As A PDF To Read Later
Thanks to huge advancements in technology and the internet in recent years, more people are now working from home (or even while traveling around the world) than ever before. With just a laptop and an internet connection, the internet is a hub of opportunity for those looking to make a little extra money or even those wanting a change in career.
As a result of this, the amount of services claiming to 'help' you earn money is also increasing. As we all know, we need to be careful online because of the many scams; this leads us to question every single website we come across. For example, Wealthy Affiliate (WA) has been attracting a significant amount of attention of late which makes you wonder whether they can actually help, how they can help, and whether this is the magical program everyone claims it to be.
Today, we're going to answer all of these questions and more. Whether you're just starting on the journey to making money at home or you're still considering the move, we hope to help with a detailed review of Wealthy Affiliate!
What is Wealthy Affiliate?
Essentially, Wealthy Affiliate (or WA as we may refer to it) is a training platform for everyone who wants to make money from an online business. Offering the chance to build a website in 'less than 30 seconds', they then help you to build a following before then utilizing this following to earn income. However, WA runs deeper than this because it also provides a superb community for all budding online marketers.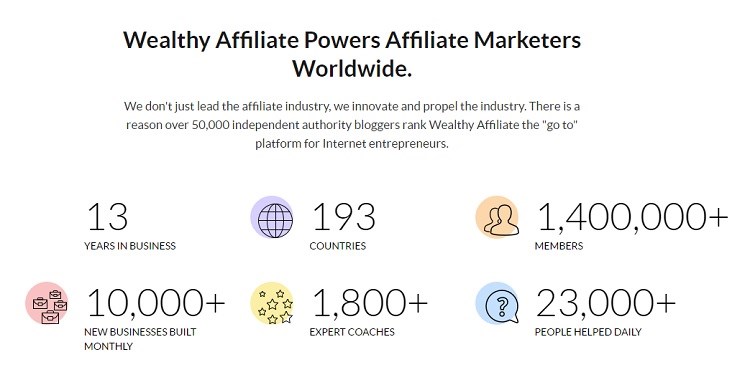 Elsewhere on the internet, asking a simple question about affiliate marketing would bring a sarcastic response and, interestingly, not much help. On WA, the community all seems to be in it together which means users are more than happy to provide advice. For the more experienced users, they've been in the scary position of just starting out and know what's required for success.
Currently, the website has 15 years of experience in the market which gives many people confidence. Since they've been in the industry from very early on, this emits trust and credibility in an industry full of websites that have been started overnight and now promise the world. In this time, the WA community has grown to over 2,000,000+ Internet Entrepreneurs in 195 countries and they provide more than 750 training updates per year. Going back to the community, even the two co-founders, Carson and Kyle, are very active within the community and can also be found replying to questions.
How Are We Qualified?
Before we launch into the Wealthy Affiliate review, you might be wondering how we're qualified to give our opinions. Why should you trust what we say here today? Firstly, we have researched the company/service heavily and even tested it out on numerous occasions. Secondly, we personally use the Wealthy Affiliate platform to build our two completely diverse businesses. Thirdly, our conversations with 100's of users, puts us in a great position to inform you of the details. We just want to help affiliate marketers fulfill the potential the market offers these days.
Should I Start With Wealthy Affiliate?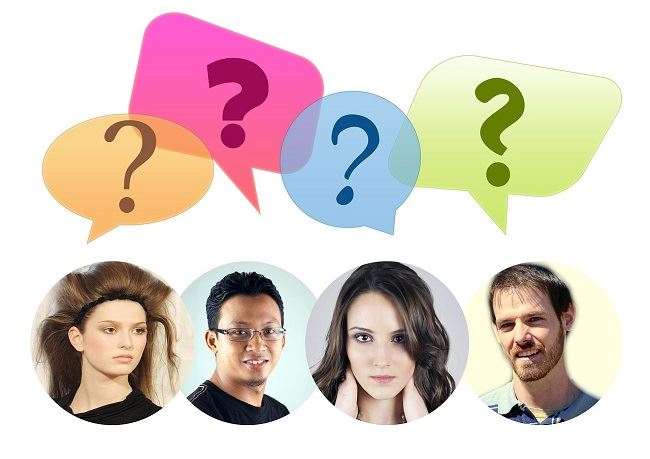 In truth, this is a very deep question and there's no way we could provide you with an answer without considering who you are, your aims in the next few years, etc. If you're still sitting on the fence about starting an online business, the first thing you need to consider is your main aims. Are you looking to make a few extra pounds to make your bills a little easier to manage? Are you looking to completely change your career and become an affiliate marketer?
If you've already done some research, you're likely to have come across the negative side of the internet; 'making money online is now almost impossible' or 'affiliate marketing is now outdated'. Personally, we recommend avoiding this advice because there are seven billion people in the world; therefore, there will always be room for affiliate marketers. If you don't put in the effort and aren't determined to see your plan through, you will struggle to make money. However, a determination to be the best coupled with a sensible strategy will see you earn money; there's no doubt about this.
Over the years, we've seen a variety of people start with Wealthy Affiliate including:
Stay-at-home parents,
Students,
Those looking for a change in career,
Business owners,
Retired people,
Bloggers, and
People who have a passion for a certain topic.
Furthermore, there are many benefits to starting an online business including;
A limitless earning potential,
No boss,
Freedom to move around the world,
Lack of startup costs,
24/7 business,
Your world will revolve around a passion, and
The ability to work around children and a busy schedule.
As mentioned, you will need to put in the hours because very few people actually 'leave their job and work for three hours a month'. Perhaps that's a slight exaggeration, but you do see quite a few programs and services promising the world without an ability to deliver and this is where Wealthy Affiliate shines.
Key Features And Differences
If you have the time, we urge you to go and take a brief look at the WA homepage (don't forget to keep this tab open!). Instantly, you'll notice there's no promising to turn you into a millionaire, no promises that you can work three hours a day, and no extravagant claims that your business will be easy. Instead, they promise you the tools you need to succeed, they suggest an opportunity to do something you love, and they talk positively about the options you have.
For us, this is one of the biggest differences that really set WA apart from the crowd. By not making outlandish promises, they become more credible and they promote themselves as a library of resources and helpful information. Aside from this, we believe WA offers the following benefits;
Superb Resources
While some services claim to have the best resources on the internet, others don't have to and WA definitely falls into the latter category. With hundreds of lessons containing genuinely useful information, it's relatively easy for anyone to get started.
Regular Webinars
Each week, webinars are hosted by a guy called Jay and they provide information, case studies, and interesting tips for your online business.
Fantastic Community
With a website like this, it could easily descend into chaos with everybody in it for themselves. However, it's actually the opposite where everyone seems to be willing to help every other out. Whether it's answering simple questions or providing advice, this makes the whole process that little bit more enjoyable.
Hosting
On the WA platform, you can host your own website that's easy to maintain and also mobile-ready. According to a consumer report in 2016, around 33% of people in the UK reached for their phones within five minutes of waking up in the morning, and I am guessing it is no different anywhere else. Considering the number of mobile transactions taking place is also increasing, being available on mobile is more important than ever before.
Overall Nature
From the owners, Carson and Kyle, right down to the likes of you and us, the whole vibe from the website is positive. For the most part, people are progressing on their journey and reading about other peoples' success makes the whole experience more rewarding. Not only can you learn from the success of others, but you can also learn from the failure of others and the overall nature of the website leans towards help and progress.
Wealthy Affiliate Training
Once you log in to your account for the first time, it's very easy to feel a little overwhelmed. With so many opportunities to start training and open a website, you might need a second to browse around and really get comfortable with your surroundings. Once ready, the training sessions are a superb place to start and the site will normally push you in this direction.
In each lesson, they'll take you through your business step-by-step from getting started to choosing a niche, setting up your website to using keywords to generate content ideas. In addition to these topics, you'll find lessons on SEO, writing content, social media engagement, pay-per-click advertising, and finding affiliate programs that suit your niche.
As we've already discovered, these lessons are then complemented by the live webinars. If you can't make it or forget one week, don't panic because you'll find it as a video later with a backlog of several other webinars.
Although they aren't produced by WA, you'll also find tutorials provided by members which can be an enjoyable read because you know it comes from experience.
Building A Website
So far in this Wealthy Affiliate review, we've talked about a number of the fantastic features but we haven't yet mentioned the process of building your website. With Wealthy Affiliate, you'll be in good hands because they use the SiteRubix platform which simplifies the previously-horrendous process of building a site from scratch. In fact, most people have actually been put off this idea because they remember the days when websites would take days or even weeks to get started. Using WordPress, you don't have to worry about technical issues and it'll look professional within minutes.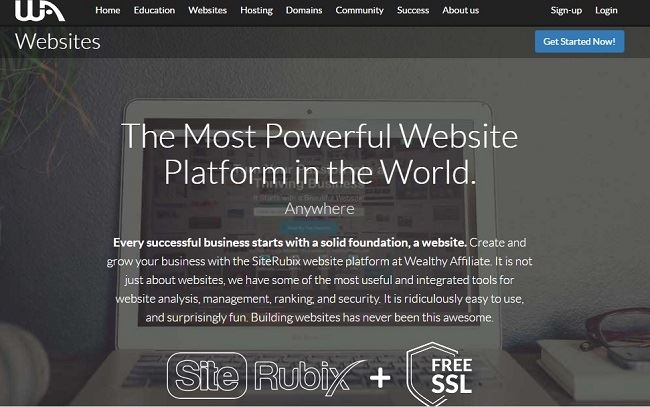 Later, we're going to dig a little deeper into the pricing – and the difference between the free membership and paid membership – but for now we'll just say that you save money. With most other hosting websites, you can pay anything between $80 and $350 and this will grant you access to around 20 sites. With WA, you get more sites for a cheaper price so we'll allow you to make your own mind up on this one.
In terms of the hosting itself, your websites will be looked after 24/7 and you don't even have to worry about backups since this is all done for you. Thanks to SiteRubix, features like comments, site health, feedback, and SSL certificates are also available which all add credibility to your business. Finally, you'll also decide your own domain so you don't have to rely on a standard address provided to you.
Community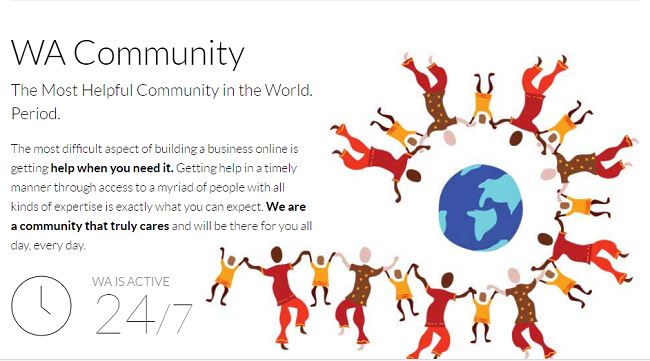 Considering Wealthy Affiliate is now a global phenomenon, there are users logged in at all times. If you have a simple question at 3 am in the morning, someone up on the other side of the world will be available to help (or perhaps another night owl like yourself). In the community, there are currently people from all different walks of life with varying levels of experience in affiliate marketing. While some are just starting out, others will have years of experience and this blend really allows you to feel at home. Sometimes, when a forum or community is made up solely of experts, it can be a little intimidating but this isn't the case with WA.
Before we show you the main benefits and drawbacks of Wealthy Affiliate, we should just explain a couple of the rules within the community; by following these, you can avoid upsetting the regulars and breaking the peace. Mainly, we recommend searching for particular topics before starting a new thread because some of the most common questions are asked every week. After this, you should respect the other users, contribute to other conversations as well as expecting answers on your own, and keep it polite at all times.
Benefits Of Wealthy Affiliate
At this point, you should have a better idea of what WA can do for you. Therefore, we're just going to finish by breaking down the benefits/drawbacks as well as explaining the pricing and how you can get started. Without further ado, let's take a look;
Free trial with no end date; although you will be limited in certain areas, it still offers enough if you don't need the full membership.
24/7 support from the WA team as well as other members.
Regular communication with the two co-founders.
The 2.0+ million community tends to remain free from spam which means most threads will be helpful to you.
Lessons are regularly updated so you shouldn't find out-of-date information.
No promises to have you living in a mansion while driving sports cars within one week (again, a slight exaggeration but you get the point!).
Plenty of domains available.
The perfect combination of being rewarding for beginners and experts alike.
Drawbacks Of Wealthy Affiliate
With much of our attention being on the positives so far, are there any negatives of which you should be aware? Of course, no service could ever be perfect so here's a couple of things we picked up on when using the site and talking to others.
It can be very easy to feel overwhelmed with all the lessons and resources looking your way; we recommend looking for the 'Getting Started' lessons and then everything should fall into place as long as you don't allow yourself to become distracted by what's coming up.
Due to fraud and government rules, WA does not allow free membership for the following countries: Pakistan, Egypt, Kenya, Vietnam, Nigeria, India, Bangladesh, and the Philippines; a full membership will be required in these countries.
How Much Does Wealthy Affiliate Cost
As we've suggested all the way through, there are two main options; Starter and Premium. With the ($0) Starter package, you won't have to pay a penny and you'll have access to:
Beginner training,
Live support from the owners for 7 days and support from other experts within the WA community
Create 1 website with free hosting
Free website Backup,
30 searches with the Jaaxy keyword tool, and
Access to affiliate programs.
Therefore, it makes for a superb place to start out before then deciding if you want to continue and pay for a full subscription.
Claim Your Free ($0) Membership Now!
For the Premium package, you'll pay $49 a month, (Less than $1 per day if you choose the annual option!), but this will open up access to a number of different features. After the payment has gone through, your account will be upgraded and you can benefit from:
Unlimited Live help from the owners and the WA community
Create up to 10 websites with free hosting
Free website backup and website security package
All phases of the Affiliate Bootcamp Training,
Unlimited searches with Jaaxy, probably the best keyword tool,
Unlimited one-to-one coaching,
Private access to our support, and
…Much more.
Which one should you choose? Ultimately, it depends on your goals because the Starter package might be enough if you just want to earn a small amount of money on the side. If you plan to quit your job once the online business is making money, we fully recommend the Premium package because this gives you more support and resources.
Getting Started
If you like the sound of everything we've discussed so far, there's only one thing left to cover; getting started. After visiting the website, start by creating a profile and then you'll be ready to go within four easy steps.
Pick an Interest
At this stage, we recommend choosing a topic that you enjoy and has some popularity around it. If you choose a niche that's too narrow, you might struggle to find interest in your website. Rather than getting stuck into something you don't like, we recommend a hobby or interest you have because this will make your job fun both now and long into the future.
Build the Website
Regardless of whether you've never built a website before or if you've done it countless times, this process is now easy because you'll be guided through step-by-step. As long as you take your time and follow the instructions, you can build a professional and attractive website with very little effort and within a few minutes.
Attract Visitors
If you leave your website to fend for itself, it will slowly die with no visitors because nobody will ever find it. For this reason, WA will teach you how to attract people towards your site including boosting your SEO efforts and therefore your ranking on search engines.
Earn Money
Once there's a steady stream of visitors to your site, the final step is to generate revenue using the various techniques provided by WA. Starting with an affiliate program, you can promote products related to your niche while keeping a cut of any potential sales your website generates.
Wealthy Affiliate Training Platform

My Commitment To Support You
Why not get started today with the FREE Trial? If it doesn't meet your needs, at least you tried it and you won't be out of pocket. When you join, I will get in touch with you within the first hour to make sure you are OK. If you do decide to join, I suggest you get the ball rolling by completing your profile.
After you have completed your profile send me a PM to schedule a 30-minute call with me so I can help you start the right way to grow your business fast.
Summary
There we have it, your complete Wealthy Affiliate review. Now, you should know exactly what WA offers, the benefits of the program, drawbacks of the program, how it all works, and whether it matches your needs. With so many scams and fake programs in the world, it seems as though Wealthy Affiliate is holding the flag for legitimate companies.
With over a decade of experience, the owners know how to build an online business from the very bottom and you can benefit from their teachings along the way. Rather than believing in the empty promises of other programs, you should instead believe in the hard work the guys and girls at Wealthy Affiliate have put in to generate such useful resources.
Once you step inside of Wealthy Affiliate you will truly understand what you have been missing all these years.
Summarized Overview
---
Name: Wealthy Affiliate
Website: http://www.wealthyaffiliate.com
Owners: Kyle & Carson
Overall Rating: 98 out of 100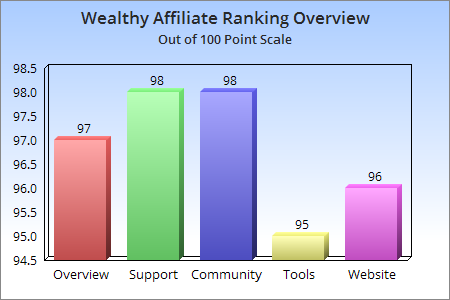 Overall, I highly recommend this training platform with more than a respectable rating of 98%. I have come across most paid programs that don't offer this and here you can get this with zero investment.
I hope you enjoyed this review and if you have any questions about Wealthy Affiliate or want to leave your own personal review, leave a comment below.
How Long Are You Going To Wait Before Starting Your Online Business?
NO CREDIT CARD REQUIRED