In A Hurry? Click Here To Download This Post As A PDF To Read Later
So, you're limited by your budget but need to build a website? If this is the case for you right now, you're actually in a great position. Normally, a limited budget will mean a lack of choice and a lack of quality but this isn't the case for website building and we're going to show you exactly why.
What is a Website Builder?
Nowadays, having a website for your business is essential and everybody knows this. However, we don't all have the budget in place to spend weeks coding and perfecting the format of the website. For this reason, we've seen the growth of website builders who take control from your hands and instead replace it with simple decisions.
Without requiring a huge budget, time, and a degree in coding, a website really is possible thanks to these website building services because all the technical details have been dealt with automatically. Also known as 'drag & drop' website builders, these professional and reliable websites allow even beginners to design a site within minutes. In fact, somebody who has never used a computer before could create a website with a superb design and this has been allowed to happen thanks to website builders.
Key Considerations
In order to answer the question of 'what is the best free website builder', we first need to address what a website builder should offer. By looking at the features all good programs should have as a minimum, you get a better understanding of which programs are genuinely strong and which are actually quite poor. When buying other products/services online, we have our own checklist so why not introduce a checklist for website builders too?
History – First and foremost, how long has the company been in business? If you're looking at a company with ten years of experience during this tough competitive climate, you can be fairly confident in the service because it suggests they survived through tough times and haven't just started out. If you see a business with less than one year of experience, we urge you to proceed with caution because there are a lack of previous customer reviews to assess and it could be one guy working from a garage trying to gain attention.
Of course, one guy in a garage can lead to a successful business but it can also lead to getting hacked and scammed. With all website builders, we recommend looking at the reviews of all previous customers and even getting into conversations with them wherever possible. By learning the strengths and weaknesses of a particular program, you learn whether or not it can meet your needs in the future.
Experience – Although they sound the same, experience and history are two very different things. While history tells you the amount of time the business has been operating, experience tells you how successful they've been at this time. Sure, a company may only have three years in their history but this means nothing if they've worked with several top companies in the country.
Overall Trend – Next up, a service might have hundreds of thousands of users but what is the overall trend? For example, Wix has around 45,000 new users each and every day so you can trust their service as you progress. Elsewhere, a company in decline may suggest their best years are behind them and that they didn't keep up with the times to keep people interested.
Customer Service – If you're choosing a website builder, this is likely to be for convenience or because you have no clue of how to get started alone. When asking 'what is the best free website builder', we believe in the customer service as much as the features and the bells and whistles. For us, customer service should be one of the basics that every single company gets right regardless of their history and experience.
These days, phone numbers and emails are helpful because they should allow for representatives to get back to you or talk you through any issues. However, we're very quickly needing help instantly at any given moment and this is why social media and live chat have become very important options. With the two of these, answers to questions should be almost instantaneous (slightly longer for social media). Elsewhere, user forums can also be a great tool because other users with experience in the program can provide help wherever necessary.
Refund Policy – What happens if the site doesn't work or you don't benefit as expected? Of course, we're focusing on free services today but it's still good to know their refund policy for products that charge as well as how they help you to reverse the sign-up process. While some sites are willing to let you delete your account instantly, others will have you wait for a period so this is important to keep in mind.
Your Needs – Finally, the very best tip we can provide is to always look out for number one; you. Once you've followed the tips above, you should have yourself a handful of solid options and this is where your own needs come into play. As an individual and as a business, you're likely to have certain needs that other companies might not have. Therefore, we urge you to think about what you're looking for now as well as how your needs might change as you progress.
Every year, we see people make the same mistake and it's making sacrifices choosing a website that doesn't meet their needs because they didn't fully consider everything during the planning phase. Since you're still in this research stage, start by writing down a list of things you want from a free website builder. Once you have this list, you can find the service that crosses off the most ticks as opposed to guessing or assuming the platform will help.
Best Options in 2019 and Beyond
Now we've considered your needs and taken the necessary precautions, the next step will be to compare some of the most popular options on the market today. Nowadays, there are plenty of strong options on the market so you just need to be open and willing to consider all angles of the service. Below, we've listed a handful of our favourites;
Wix – Currently, Wix is one of the fastest-growing website builders on the internet and they specialize in HTML5 websites. Instantly, you'll notice the 'drag & drop' features keep things simple while the endless supply of themes and templates will keep your website looking unique. With some free services, the personalization is limited which leads to all websites having a similar look/feel but this should never be the case with Wix… Learn More at Wix.com
Whether you're looking to build an online portfolio or perhaps even a personal website, Wix can help alongside providing assistance for all businesses; regardless of whether you're just starting in the industry or if you've finally decided to take your physical business online. In addition to free hosting, Wix allows up to 1G in bandwidth, superb customer support, and built-in Google Analytics.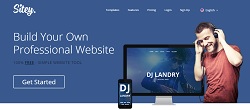 Sitey – Once again, the focus is very much on HTML5 for this option and it's specialized for all entrepreneurs who want a website or store that can expand the business. With an interactive and responsive design, the templates make designing easy and the interface makes the whole process simple for everyone from beginner to expert.
If you choose Sitey, you can create your own website while also gaining access to SEO tools and this is great news if you want to use content to expand in the coming years. Furthermore, all websites come with email support and PayPal integration in addition to several analytical tools so you can continually assess what's going right, what's going wrong, and how you can improve in the future.
Weebly -Elsewhere, Weebly has also been capturing the imagination of businessmen and women all around the world as an open source SaaS solution. From domain registration to the actual hosting, this solution has it all while simplifying the process so you have more time to focus on the most important aspects of your business. With a drag & drop interface, you can get started in no time before then managing and growing your platform with Google Analytics, SEO tools, and a framework free from ads. Learn more at Weebly.com
Furthermore, Weebly has another benefit in its versatility because it can be used across a multitude of different platforms. For all e-commerce businesses, Weebly is also a solid choice with an automatic tax calculator, digital gift cards, PayPal integration, and more features aside. With unlimited bandwidth, more support than you'll possibly
need, and a range of available apps, Weebly is a fantastic choice.
SiteRubix – Finally, we wanted to finish on what we think is the best free website builder on the internet. When people ask 'what is the best free website builder?', we normally point them in this direction because it's available with the Wealthy Affiliate program. If you haven't heard of this previously, it gives everybody an opportunity to take one of their passions and turn it into a career through affiliate marketing.
As well as thousands of themes, training courses, mobile-ready designs, and so much more, you'll also gain access to the Wealthy Affiliate community and forums which is one of the best platforms on the internet. When it comes to advice and people trying to help each other as opposed to the usual 'why don't you look it up on Google', you aren't going to find too many platforms as useful as SiteRubix and this is why it's our favourite.
Watch this short video created by Kyle showing how you can very quickly and efficiently have your website up and running. In fact, Kyle will show you how you can build a fully functional WordPress site in 30 seconds! Go Watch the video!
WordPress website in 30 seconds for free. Go watch the video…

WATCH VIDEO: See How To Create A Website In Under 30 Seconds
Summary
Overall, you always want to put your needs first and maybe even write them down on a piece of paper. As you look through the many free website builders, you can check off the sites that offer something for all these needs. Of all four services we provided, we recommend choosing SiteRubix even though they all offer something special.
With SiteRubix, the process of starting a website has never been easier. With so many themes and options for customization, you'll be up and running within minutes and this is before we even mention the support you'll receive from Wealthy Affiliate if you decide to go for the whole platform. With thousands of happy customers to date, all it takes is a quick sign-up and you can join this list!
I hope you enjoyed this review and if you have any questions about website builders or want to leave your own personal review, leave a comment below.
Click Here To Build Your FREE Website Powered By Wealthy Affiliate
Check out some of our most popular product/service reviews…