In A Hurry? Click Here To Download This Post As A PDF To Read Later
If you're currently researching the best affiliate programs with high commission, we applaud your ambition; why settle for anything less when there are some superb platforms offering high commission from the start? Luckily for you, we've compiled our list of favorites so you can get an idea of what's currently available and how the programs work. If you've been looking for a way into the 'work from home' lifestyle, this could be your first step!
Avoiding Scams
Before we launch into the high-commission affiliate programs, we first wanted to offer a couple of tips for avoiding scams while searching the internet. Unfortunately, there are still people who prefer to scam others rather than making an honest living for themselves so you need to be careful and it starts with managing your expectations.
When looking for affiliate programs online, you need to be realistic about what you're going to receive. If you work hard, there's no reason why you can't make a living from affiliate marketing and the proof of this comes from the thousands of people that have done it before you. However, it's going to take some hard work and dedication. If there's a program offering to make you financially secure within a week, you can be fairly certain this is a scam.
After this, we also recommend carrying out your research, checking the reviews from previous users, checking the website for simple grammatical errors, taking advantage of free trials to ensure the program is for you, and talking with the company themselves. With the last tip especially, not enough people talk with representatives from the affiliate programs when this could be the best way to detect an issue.
The Best Affiliate Programs with High Commission
Now you have this advice, what options are available to you?
eBay Partner Network

For the first option, why not surprise you with a program you've already discounted? As we know, eBay isn't exactly big ticket but there are opportunities to make serious money and this is why we've included it on our list as an outside suggestion. Essentially, it all comes down to choosing the right products because eBay does have listings for cars and all sorts of other expensive items. If you're looking for the most commission, you can promote the most expensive cars and it's as easy as this.
Depending on where you are in the world, you can earn varying amounts of commission which is actually fairly unique. For example, 50% commission is available in the US while those in the UK can earn up to 75%. In the first three months, a double commission will be available and you have access to some superb marketing tools including ad creatives, link generators, and widgets.
Although the eBay Partner Network isn't going to be for everybody, we like them as an affiliate program because you can track all sales and see a plethora of statistics which allows you to optimize your ads and ensure your results improve over time. With over 160 million active shoppers, another advantage of choosing eBay is that you have a wealth of products and consumers to target.
Shopify

If you haven't heard of Shopify, it's an e-commerce solution for all those wanting to sell their own products. For example, the type of items available now extends to scarves, homemade gifts, ornaments, and other similar items. As long as it's unique and made by hand, it can be sold. However, there's another side to the website you may not know and it promotes these very sellers.
When you choose Shopify, there are numerous features from which you (and your customers!) can benefit including web hosting, store management, SEO, shopping carts, and analytics. Therefore, it shouldn't be hard to get people to join and you can earn up to $2,400 for every customer you introduce. With pre-sale commissions, 200% of the subscription fee can be earned for every single referral.
For yourself, you can take advantage of banners, templates, and many other features that allow you to promote the program far and wide. With the Shopify dashboard, everything is laid out nicely for you to assess how each campaign is performing and where you need to improve in the future. We've included Shopify in this list for numerous reasons and the high conversion rates are the cherry on top of a fantastic cake. With some platforms, they offer high commission but this is no good if the program is notorious for poor conversion rates. With Shopify, this shouldn't ever be an issue.
Fitbit

To finish this list of the best affiliate programs with high commission, we're going to suggest a fairly new company but one that has seen large growth in the last couple of years alone. In truth, there are three reasons why we're including Fitbit on the list. Firstly, the program offers 10% commission for each sale. Secondly, the program runs through  Commission Junction which is a well-known affiliate program in itself. Thirdly, the wearables niche is growing faster than most and Fitbit is right at the heart of it all.
As a tracker-type device the customer places on their wrist, it links to a mobile app and provides all sorts of information from heart rate during exercise to how many steps they're taking each day. As the fitness industry continues to boom, more and more people are looking for solutions like this which means it shouldn't be hard to make sales. Additionally, the opportunities that could arise with these products in the future are endless so it's a good place to position
yourself.
Regal Assets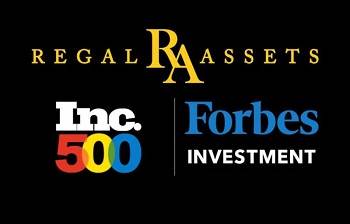 We have saved the best til last! Listed on the INC 500, Regal Assets has an affiliate program that's quickly gaining attention for all the right reasons. Specialising in precious metals in the US, the company is only getting larger, they have a fantastic reputation in the industry, and they've received all sorts of accreditations from official organizations.
According to the company (and the users who have already seen success using the program!), average transactions can include five and six figures so it's a service known for attracting those with money. As an affiliate partner of this prestigious program, you'll receive 3% commission for each transaction. At first, this might seem lower than the commission rates of competitors but the size of the sales make it all worthwhile. For example, a sale with six figures will earn a commission to help you live comfortably for a while. Although sales will be less common than a lower priced item, the size of each sale makes it one of our favorites and a great opportunity to make good money.
In addition to this, we believe Regal Assets has some of the best features for their partners including the fact your customers remain YOUR customers for life. Normally, you receive a commission when people buy through your link and then the connection is lost once they click away. Even if the customer returns and continues to buy products every month with a bookmarked page, they didn't use your link and so you won't earn money. With Regal Assets, you'll receive a commission for every single purchase your customer makes because the connection remains in place.
Furthermore, you'll have access to some superb tools including ad creatives, lead-capture forms, and many more. If you like affiliate programs with a sense of progression, Regal Assets also makes for a superb option because increased commission can be earned by super affiliates after a certain amount of time (and earnings!).
Overall, we believe Regal Assets to be one of the best affiliate programs with high commission these days and we don't expect this to change any time soon. With the number of features that come with the platform, and with precious metals only becoming more popular, we think it offers a superb opportunity for both beginners and experts!
Choosing The Right Affiliate Program
With these four fantastic suggestions, you have high-ticket items, those with the highest commission percentages, and some food for thought. The steps you take from here will completely depend on whether you have a blog already, you're just starting out, or you're just researching what's available since everybody seems to be talking about affiliate programs.
If you've already got a blog and you're seeing a healthy number of customers every single day, you need to act carefully because you're in a position now where people trust your word. According to a recent poll, over 75% of people fail with affiliate programs because they choose the wrong products to promote. If you're to avoid adding to this statistic, you need to choose products that are right for your blog. If you've gained an audience about badminton, trying to advertise jewelry isn't the best idea because nobody will be interested.
If you're just about to start your blog, you have a little more freedom to base your decision on the affiliate program. For example, Regal Assets seems to have the best opportunities and you can, therefore, start a blog within this niche. This being said, Regal Assets can be used across all niches because it's a financial service everybody could utilize. As soon as you start to build a presence in the market, the advertising starts and you'll earn a commission whenever anybody uses your link to get started with the service.
When searching for the right products for your blog, we also suggest talking to the company and testing the products on offer. If they offer a combination of products and services, like Regal Assets, spend some time with the company, learn how they work, ask some questions, and see whether they're a good fit for your business. Over time, you can be confident you're pointing your readers in the right direction.
Summary
As long as you take your time to avoid the scams and review the affiliate programs that provide a genuine opportunity to make money, you can have a great time with this method of monetizing your blog or website. Alongside the best affiliate programs with high commission we've seen, there will be others so be willing to look around and choose the one that's right for you as well as your readers.
To finish, we'd like to end on Regal Assets because this is an opportunity that can be utilized by absolutely everybody. While some affiliate programs are designed for certain niches, Regal Assets is a service that allows people to convert their traditional savings or IRAs into a gold IRA. Considering the precious metals market is currently more trustworthy and reliable than any other right now, you'd be providing your readers with a superb service (while earning great money along the way!)
Here are some reason why we feel Regal Assets is the #1 Affiliate Program:
Free To Join (By Invitation!) Through ClickAgain Network.. Join Here
High Commissions – Up to $30,000+ for ONE SALE
Life Time Customer – Every They Invest You Make Money
Ability To Choose a Mentor from The Top Six Affiliates To Help And Guide You To Success.
I hope you enjoyed this post and if you have any questions about high commission affiliate programs or want to leave your own personal experience with high commission programs, leave a comment below. I would love to hear from you!

Check out some of our most popular product/service reviews…