In A Hurry? Click Here To Download This Post As A PDF To Read Later
Crypto pros have been making rounds over the internet due to its method of operation, and a lot of marketers have tried to sell this opportunity at one point or the other to your face. In this review, we will help you find out if it is worth the hype or just another Ponzi scheme you should avoid. Read on to find out about Crypto Pros.
What Exactly Is Crypto Pros?
The crypto pros is a MLM (multi-level-marketing) and network marketing company found in the advertising section offering advertising bonuses for participants and registered users only. The company uses a 2×20 matrix system where you are to buy points, earn commissions for referring the business to other people, and the circle continues.
Launching it in the first instance, it was discovered that the company had a functional website but initially, there was no way to register on it, it was later that access was granted to register on the website. What it used were special Google form and YouTube video. According to research carried out by some specialists it was discovered that there was no trace of who the owner is.
However, in one of the marketing videos, a guy named Frank Hester was the one presenting it, and brief research showed that he had been involved in a few other programs in the past. Some of the companies he had been involved with include; 
MyEcon,
Coinpression,
Crazy ad profits,
NetQube,
Crypto Tab
Eyeline Trader,
And some others
According to the FTC regulations, all MLM businesses or companies must possess a retail product. Retailed products are like test products offered by the company to buyers who want to buy the product without compulsorily registering, but the crypto pros do not possess this feature.
How Does Crypto Pros Work?
When you newly opt-in for the business you would have to purchase ad credits from the company. Purchasing ad credits also means you are purchasing a matrix position, which is used in determining the number of clicks you get for your account and it is displayed to other members of the opportunity.
To become actively registered into Crypto Pros to start making money, you are required to buy matrix positions. Crypto Pro matrix comes in a 2×20 format that could be gotten either by a direct or an indirect sponsoring and it comes with a 4.5% commission. Crypto Pros also give you the liberty to purchase multiple positions from their flexible packages.
A quick breakdown of the different positions with their multiple matrix compensation plans;
At a cost of $30, you could get 15 matrix positions,
At a cost of $62, you could get 31 matrix positions,
At a cost of $126, you could get 63 matrix position,
At a cost of $254, you could get 127 matrix positions.
The more positions you purchase, the more you stand a chance to increase your earning using the plan offered by the company.
Crypto Pros Compensation Plan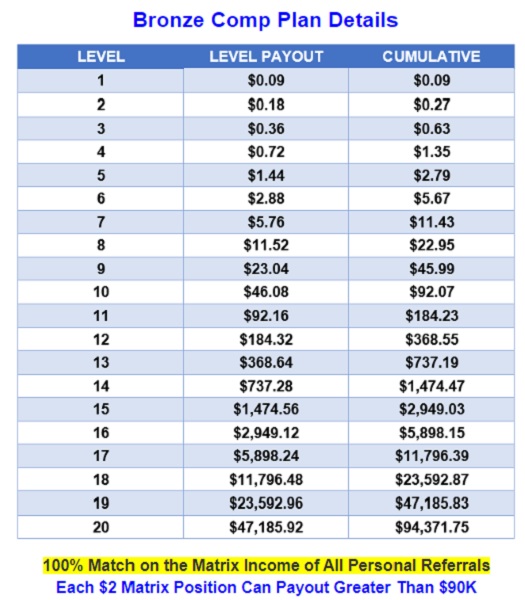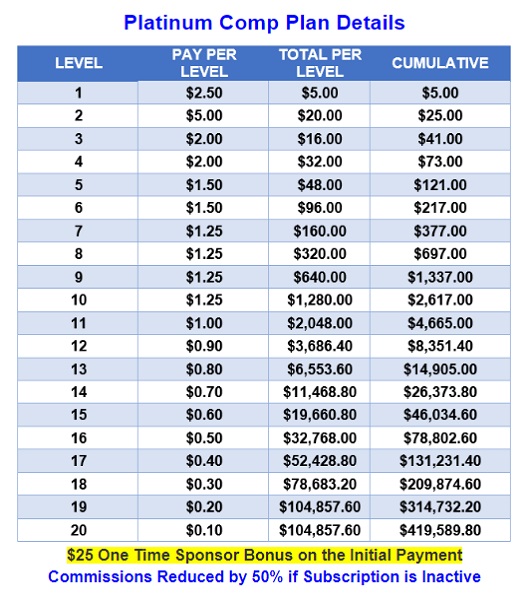 The business also offers you a referral matching bonus where you get a commission for everyone you refer to the business opportunity. The matching bonus offers a 100% commission, you also have to note that 25% of the commission's pay-out you get is redirected back to the company's matrix position.
Affiliates are required to purchase matrix positions, so you make your earnings according to the income opportunity you are offered and based on the position you purchased. You are also offered bundled ad credits from the matrix positions you purchase, and these ad credits can be used to showcase your ads on the Crypto Pros web whenever it is launched.
How Much Is Crypto Pros?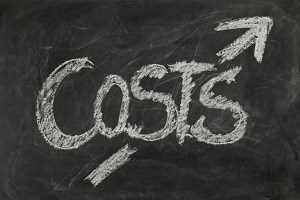 Getting started with the Crypto Pros opportunity where you can make good money, the first thing you need to do is to purchase matrix commissions. The minimum amount you can use to start with Crypto Pros is the sum of $30. Although there are other positions you can purchase at different cost;
15 positions would cost you $30,
31 positions would cost you $62,
63 positions would cost you $126,
127 positions would cost you $254.
To increase your rate of earning, members are advised to purchase more matrix positions.
Who Owns Crypto Pros?
From the information gathered, it was clear that Frank Hester found this program and decided to extend it to others. The name Frank should ring a bell as he is known to have a track record of creating various Ponzi schemes.

Pros Of Crypto Pros
Speaking of what advantage you can get from using the Crypto pros, you will find out that there are not many things you stand to gain. 

Red Flags Of Crypto Pros
The first thing that might come to you as a red flag is the fact that there is no actual site under which this business is registered. The only advantage you stand to gain is the money promised to be given to you after you must have introduced others to the scheme.
This program has some inconsistencies that you should look out for. Ignoring them could lead to regret. Here are some of them.
No Evidence Of Work For The Matrix
Another disadvantage is that you will be required to pay for a matrix that you might have no idea how it operates. If you purchase the basic matrix which is a two by twenty matrix, you will not be able to monitor how your referrals have added up to twenty. In fact, the scheme promises to help you earn extra cash when you refer people but provides you with no measure to monitor it.
Not Accredited On BBB (Better Business Bureau)
For most legit businesses, you can find out from BBB if they are accredited. Having a business placed on this platform gives you more confidence to trust a business. It is not all there is to having a legit business but it is a great step. So here's the thing, we ran a check on the BBB and found out that this business is not registered in it.
Although the BBB has had some questionable data about different companies, as they have been found to manipulate data what still remains is the fact that you can find extra useful information on the site, and Crypto Pros has no information on it.
Is Crypto Pros A Scam?
In our opinion, from the information provided, you should be able to figure out without doubts that this program is a scam. It is owned by Frank Hester who also happens to be the mastermind behind other various forms of internet Ponzi schemes.
In the end, instead of getting the money you signed up for, you get nothing in return. It is safe to say that this program is a rip off and it is targeted at robbing you of your hard earned money.
Should I Buy Crypto Pros Package?
It is not advisable to buy this package. Even if it seems like it is working for some.
In our opinion, It won't be long before the entire program will fold up and you end up regretting because you decided to invest and got no return.
I hope you enjoyed this and now have an answer to the question "What Is Crypto Pros?". If you have any questions or you just want to leave your own personal experience, leave a comment below. I would love to hear from you!
Before You Go…
If you seriously want to earn money online at home and still not sure about how to start then click the banner below and check out the training platform and the community that got me started. And the best part is you can check out everything for FREE to decide if it is the right for you.