In A Hurry? Click Here To Download This Post As A PDF To Read Later
As a content producer with your own website or blog, you'll have heard all about affiliate marketing as well as all the other methods you have of earning money such as writing an eBook or creating an online course. To this day, we still see people asking 'what is Google AdSense program' despite it being one of the first ways of earning money online. For many years, this was the major method but it has since been overtaken.
Is it still worth using? How does it work? How do I get paid? If you're looking for answers to these questions, and many more, you're in the right place because it's our topic of conversation for this guide!
Introducing Google AdSense
As the name suggests, this is a program introduced by Google and it's one that allows publishers to place contextual ads onto their website whether it's a simple piece of text, video, image, or any other type of advert. Essentially, businesses pay money to Google to get their ads onto platforms like your own. After applying for a Google AdSense account and getting accepted, you'll be able to receive a portion of this money by holding the ads on your website. Therefore, Google is actually the middleman in the process.
How Do I Earn Money? – When people ask 'what is Google AdSense program', they're actually asking 'how can I earn money using this method' so allow us to explain. Once the business pays the money to Google, they keep a percentage and the rest goes into a pot which can be earned by publishers and content creators. After the ad is on your page, you'll be paid a certain amount for every click it receives from your visitors. With this in mind, the system works so that the more popular websites with the most visitors have the biggest potential to earn money.
Although the numbers have been the topic of much conversation over the years, it's generally believed that Google keeps 32% of what the advertisers pay and the remaining 68% is available for publishers. If we say that a business pays Google $100 to get their advert onto related websites, they'll keep $32 as commission (for the luxury of helping both parties) and give the rest away to publishers as the clicks come in.
Am I Eligible for Google AdSense?

For the longest time, Google has been careful with who is accepted and who isn't. At first, there was a little more leniency but this has since disappeared and the process is more difficult. Before you get started, we highly recommend reading the terms and conditions laid out by Google because this will save you wasting time on the application if you don't yet reach their minimum standards.
For the most part, Google is looking for publishers who create high-quality content on a regular basis. If you post on a blog sporadically and have no real following, you aren't likely to be accepted because the ads on your page wouldn't be too successful. If we look from Google's perspective, they have a duty to make sure the adverts are placed carefully because the business has paid money and entrusted their services.
In terms of demographics, the most successful Google AdSense users seem to be bloggers between the ages of 16 and 34 years. Generally speaking, they offer something unique and have moved away from mainstream ideas in order to find their niche audience. Sticking with the theme of demographics, it seems that people in urban areas have a much better chance of earning money from Google AdSense than those in rural areas…but don't let this put you off if you're in the latter.
How Much Can I Earn with Google AdSense?

Once again, the 'what is Google AdSense program?' question has returned us to the topic of money and this isn't surprising considering how the system works. Ultimately, you, as a content producer (or somebody who is thinking about starting a website), see this as a money-making opportunity so your earning potential is important.
Overall, it would be impossible for us to give you just one figure in answer to this question. Ultimately, the amount you earn will depend on a number of factors including the number of visitors your website receives on a daily / monthly basis, how much you get paid per click, and how many people actually click on the ad once they're on your website. Of course, the theme of the ad will be linked to your blog/website so this increases the chances of receiving clicks but they still aren't guaranteed.
For normal bloggers, they tend to make an average of $200-$300 in a month. If we look towards the good bloggers who work hard on a daily basis, this could extend to $800-$1,000 per month. Then, above this, we have the very best and this tends to be an elite group who can earn anything up to $50,000 per month. In order to get this far, you'll have to be one of the most popular bloggers in your niche.
Before you get too excited, it's thought that 100,000 people join the WordPress platform every day so it's going to take some hard work to start earning a living from the exercise. This being said, it's absolutely possible and there are plenty of examples of people succeeding online.
Why Choose Google AdSense?
So far, we hope to have answered the 'what is Google AdSense program' question but there's still one thing to discuss; why should you, as a blogger or website owner, consider Google AdSense in the first place? These days, there are several competitors to Google AdSense including: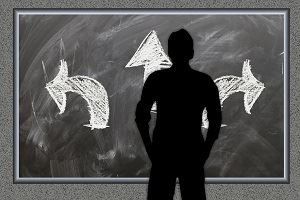 Infolinks,
Clicksor,
Chitika,
Amazon Associates,
BuySellAds,
Kontera,
Adbrite, and
eClickZ
What makes Google so special?
First things first, it's hard to deny Google's power on the internet. Whenever we search for something or need a question answered, Google tends to be the first place we go. With this in mind, there's an element of trust with Google that bloggers don't have with most of the other platforms. When it comes to trust, this also exists for advertisers and, the more advertisers pay Google, the more chance you have of earning money.
In addition to this, Google AdSense is easy to use, it has a strong history, and they also have a superb team ready to help if you come across any issues. At all times, Google seems ready to help across a number of platforms. Just recently, they also introduced third-party ads which can be placed on a website alongside AdSense ads and this is great news.
All in all, Google delivers on the promises they make and you won't ever have any trouble obtaining the money you've earned. Once you've earned enough to receive a portion, they'll pay out in your desired method without any issues.
Summary
There we have it, everything you need to know about the basics of AdSense. What is Google AdSense program? It's a trustworthy and reliable platform that allows you, as a blogger or website owner, to make money from placing ads on your pages. Every time somebody clicks on the ad, you get a portion of the pot!
I hope you enjoyed this post and if you have any questions about  Google Adsense online or you just want to leave your own personal experience, leave a comment below. I would love to hear from you!

Check out some of our most popular product/service reviews…