In A Hurry? Click Here To Download This Post As A PDF To Read Later
Making money from home has been a mirage for many people. You see influencers the age of your kid brother posting pictures of the good life without going to college or leaving their home. And you wonder; are there real ways to make money from home? There are, but it's not as easy as you are made to believe. In this article, we look at legitimate money-making ventures you can engage in from the comfort of your home.
These business ideas are used all over the world by thousands of people to earn an honest living. But we won't sugarcoat the facts. Making money from home requires hard work and perseverance. If you can identify a niche market, provide excellent service or products and promote yourself aggressively, you can make a good living from home.
Survey Taker
One of the easiest ways to make money from home is through surveys. Surveys can be online or offline although the former is more popular.
The great thing about surveys is that the respondent rarely needs any experience or special skill so long as you meet the survey criteria. There are several survey sites online that will pay for your opinion. The registration process is fast and simple.
Once your application is approved, you will receive email notifications whenever surveys that match your data are available.
However, most surveys pay less than a dollar. But the tasks are short and simple. Popular survey sites you can try include Swagbucks, SurveyJunkie, InboxDollars, Vindale Research, MySurvey.com. ACOP.com and SurveySavvy.com among others. These platforms can help you earn a few extra dollars but won't make you rich.
Blogging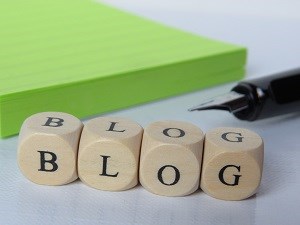 In the internet age, blogging allows individuals to share their passion and knowledge with a global audience and also make money off it.
With the right management, you can scale a blog to any level regarding revenue, influence, and authority. There are many ways to monetize a blog. You can become a consultant, sell your own products and services or become an affiliate for other vendors.
You can make money from a blog through ads, reviews, and even donations. There is so much potential in blogging but it is important to deliver value to your audience consistently. If you can build a reputation as an authority in your niche and solve your reader's most salient problems, a blog can become a passive source of income for many years to come.
Learn more:
What Is Blogging About? Complete Guide
Make Money Online Blogging
Freelance Writing
Do you have a way with words? Then maybe you should try freelance writing.
There are billions of websites and blogs all over the world and many continue to join the internet every day. With the increased online traffic, there is a deluge of demand for creative and reputable writers. Website owners want writers who can create insightful and valuable content that resonates with their target audience.
You can fill the gap by providing writing services for businesses. It helps if you have expert knowledge in a particular field but that is not a barrier to becoming a successful freelance writer.
For a start, you can try freelance writing websites such as Upwork and PeoplePerHour. You can also prospect for clients on LinkedIn, Facebook and Twitter. But before you look for clients, it helps to have written samples in your area of specialization. That way, clients know you can deliver as promised.
Editing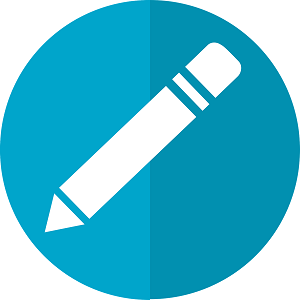 Are you an English teacher looking to augment your finances? You can put your editing skills to economical use after school closing hours.
While millions of people want a slice of the freelance writing cake, only a few writers can self-edit their work to a publishable standard.
As an editor, this provides a great opportunity to earn a good income by the side. All you need do is create a profile on freelance sites that offer editing services. You can also market your services to people around you including students, writers, trade publications and organizations that require editing services.
Over time, you can grow your editing side hustle to where it becomes your main income source. Until then, keep prospecting for clients.
Online Tutor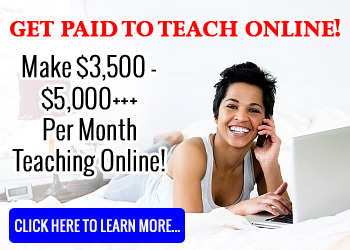 Back in the day, you had to meet a student at a library or their home for tutoring.
With the internet, online tutoring is now the rage as it allows you to deliver learning, guidance, and advice virtually.
If you have a strong academic background in a particular subject, you can inform your neighbors of your availability if their wards need help with their books.
Otherwise, register with the many tutoring sites that pay per hour. Online tutors can make up to $10-$60 per hour based on the subject, location, and platform where they provide their services. Don't let your math or science wizardry die a slow death. Monetize it while helping disadvantaged kids ace their grades. Check out Tutor.com and TutorHub.com
Customer Service Rep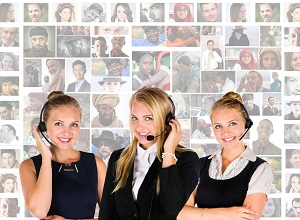 As a customer service rep, you are the mouthpiece of an organization. You call and answer customer enquiries and get paid for your services.
Customer reps don't need special skills, although you have to be proficient in the customers' language and have thick skin.  Many companies outsource their customer support to third parties who hire private citizens to do the job. All you need is a working computer, a phone, and a stable internet connection.
Companies like Alpine Access hire over 5,000 work-from-home customer representatives and you can earn an average of $9-$10 per hour.
To excel at this job, you must be an excellent communicator, an active listener and be able to keep your cool when provoked. Check out Customer Service Rep jobs at Indeed.com
Virtual Assistant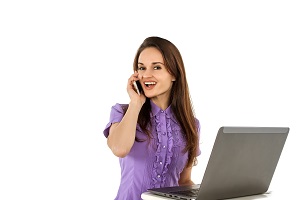 Being a virtual assistant can be a lucrative work from opportunity. Some people have made this into a very profitable business.
Have you heard of Gina Horkey? She is a six-figure virtual assistant who opened many people's eyes to the opportunities in this niche industry. If you love administrative tasks and excel at managing other people's boring work, a VA role can be your dream home business.
While you may not earn up to five figures like veterans, it is possible to make hundreds and even thousands of dollars per month as a VA. Check out Virtual Assistant Jobs at Indeed.com
Transcription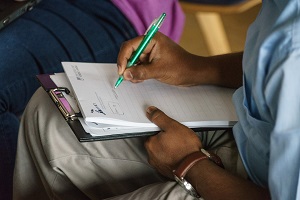 As a transcriptionist, you convert audio files into a written format. You need to have a good computer for typing, working headphones to listen to the audio files and a lot of patience.
This job requires patience because you will spend long periods listening to the tapes to record the content with minimal error. Transcriptionists can earn up to $7-$21 per hour. You can make more if you do the specialist transcription for medical and legal professionals. Check out Transcriptionist jobs here
Website Designer
You can do anything related to the internet from the comfort of your home. If you have web designing skills, programming knowledge or graphics design skills, you can make a lot of money working from home.
So long as you have the right tools and can market your services, you will be swarmed with work. Freelance sites such as Fiverr and Upwork provide a global platform for web services professionals to make a good income from their homes.
Final Words
Making money from home is easy. If you can provide services that people need, you can work from anywhere so long as you deliver results.
However, learn to market yourself and always deliver beyond expectations. Also, remember that there are thousands of online scams posing as the real deal. We hope the ideas mentioned in this article will help you start a profitable home-based business. Also, check out Part Time Home Based Work.
I hope you enjoyed this "Real Ways To Make Money From Home" article if you have any questions or you just want to leave your own personal experience, leave a comment below. I would love to hear from you!
Before You Go…
If you seriously want to earn money online at home and still not sure about how to start then click the banner below and check out the training platform and the community that got me started. And the best part is you can check out everything for FREE to decide if it is the right for you.