In A Hurry? Click Here To Download This Post As A PDF To Read Later
Monitor Backlinks is a powerful marketing and growth-enhancing tool that helps you build backlinks and so much more.
Monitor Backlinks is an online SEO tool that automatically alerts users of activities about their backlinks. The app lets you observe what's happening to your backlinks and also allows you to see what your competitors are doing with their backlinks.
Monitor Backlinks is an intuitive SEO tool targeted at SEO firms, online businesses, and digital marketers to make it easy to track your backlinks and keywords.
What Does Monitor Backlinks Offer?
Monitor Backlinks is an online tool that collects backlink data from sources such as Majestic and Moz, then filters out the junk to provide a leaner and richer backlink list. The tool comes with a list of impressive features to help keep track of your backlinks and track your competitors' backlinks and keywords. In addition to tracking your backlinks, it also monitors your keyword rankings in Google automatically.
Whenever you earn or lose a backlink, Monitor Backlinks will send you an automated email notification. It also helps you track your competitors' high-quality keywords so you can take advantage of it. The tool also notifies you whenever your competitors earn new links with high rank so you can also take advantage of that to improve your rankings.
Overview
Monitor Backlinks provides detailed feedback on all your backlinks, showing performance statistics of the backlinks that are contributing to the success of your domains and business and those that are not doing well so that you can take informed actions that add value to your business. Monitor Backlinks also helps spy on your competition's SEO strategies by revealing their high performing backlinks and the keywords helping them rank higher on Google.
The tool monitors stats from organic traffic, new backlinks, and keyword rankings. Monitor Backlinks also tracks changed and broken links as well as your competitor's backlinking activities. In fact, not only can Monitor Backlinks discover and monitor your competitors' link building strategies, but it can also track search ranking fluctuations, provide an in-depth overview of organic search traffic via Google Analytics, monitor the health of high-value links, as well as provide detailed reports on new links.
Concerning new links, Monitor Backlinks will display the date the link was discovered, the status of the link, pages linked, anchor text, number of social shares it has gathered, Moz's DA/PA, PR, the country of origin as well as the number of external links on the page.
This tool can help fine-tune your SEO strategies by providing a robust backlink profile and targeting your SEO efforts for increased ranking and higher exposure for your website and business. It's an all-in-one tool that combines all the important SEO features and metrics that make it easier to interact with large data sets under one platform.
One great benefit of Monitor Backlinks is that it allows you to perfect your link building profile on a budget. While it can be difficult to build quality links if you don't have a deep pocket these days, Monitor Backlinks can help you get high-value links without breaking the bank. The tool achieves this by tracking the SEO strategies of the big industry players and alerts you whenever they earn new backlinks. You only have to replicate their processes to get the new backlinks and boost your rankings.
Monitor Backlinks also helps to track your websites' status and health. It tracks your website daily, continually searching for new links that target your site. If it finds new links, it notifies you so you can exploit the advantage. With this, Monitor Backlinks help you forge alliances and engage with credible blogs and websites within and outside of your community and industry, considerably increasing your reach, growing your brand, and ultimately setting you up for success.
Cost Of Using Monitor Backlinks
Monitor Backlinks provides four enterprise pricing options to cater for its wide range of customers. Below is a breakdown of each plan and what they offer. You can go through the list to choose the plan that best suits your brand's needs.
Monthly Paid Price Plans
Monitor Backlinks offer 17% discount if paid annually
Annually Paid Price Plans
All Plans Include:
Automatic Verification
Keyword Rank Checking
Email Alerts
SEO Metrics from Multiple Sources
Backlinks Management
In-Depth Backlink Reports
Link Disavowal
Bulk Link Import
Custom Plans
The custom plan is ideal for businesses whose operations are not covered by the options above. You will have to contact them to discuss your needs and how they can help you achieve it.
Features
Monitor Backlinks offers a diverse range of features which are divided into the following pages.
Overview Page
The overview page hosts 11 indicator icons that display different performance metrics of your website. These include the social icon that displays the number of shares your homepage has received on social media, the Alexa rank, Moz rank, Domain Authority, number of backlinks, unique domains, as well as your website's speed. The overview page also includes indicators for spam, trust flow which shows the quality of the websites linking to your site, citation flow which reflects the influence of your website regarding authority, as well as the safety of your website. All these statistics are important indicators for success on your website.
Backlinks Page
The backlinks page displays your backlinks according to when you acquired them. When you click on each backlink, the page provides a richly detailed analysis of the performance of the link, helping you to identify links that are performing optimally, and the poor links that are drawing you back so you can either keep or disavow the link.
Reports Page
The reports page offers an in-depth data reportage on every aspect of your site's backlinks in visually-rich charts. You can filter each report by exporting to CSV file or choosing some criteria, which instantly changes the report to reflect that filter.
Competitors Page
Next, you have the competitors page where you can add the domain of as many of your competitors as your plan allows to track their SEO and link building activities. Monitor Backlinks will check your competitor links once per week and alert you if it finds new links. It also provides extra information about your competitors' domain including the Moz rank, Speed, Trust Flow, Spam Score, Citation Flow and link status such as Follow and Nofollow, important metrics which help you compare your website's performance to its competition.
Monitor Backlinks Easy Dashboard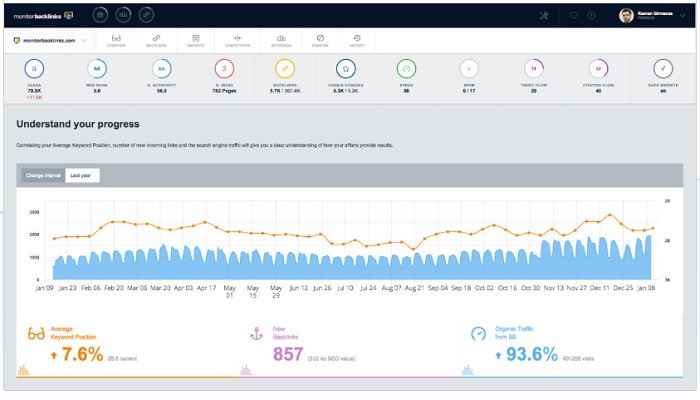 Keywords Page
This page provides a visual representation of the performance of your keywords relative to your competitors, the position of your keywords in search engine results as well as detailed statistics of selected keywords which you are tracking.
This page lets you see how your keywords are performing compared to your competitors' keywords, as well as metrics such as cost-per-click, competition score, and total search volume.
Disavow Page
This page has features that allow you to change the settings for removing links to your website. The feature is especially useful when a spam site is linking to your site or pages, as this can draw penalties from Google.
History Page
The history page helps you track old backlinks that have stopped working. Monitor Backlinks will check these links every five days for any changes in their status.
Conclusion
Monitor Backlinks provide a ton of value for its price. It allows you to stay abreast of developments regarding your keywords and backlinks and also serves as a cost-effective tool for building a formidable backlink system to help achieve your business objectives by showing you the performance of your competitors. The tool is easy to navigate, provides many features, and even more. If you are looking to step up your keyword and link building strategies, Monitor Backlink is a great choice.
I hope you enjoyed this post and if you have any questions about Monitor Backlinks or you just want to leave your own personal experience, leave a comment below. I would love to hear from you!

Check out some of our most popular product/service reviews…